EFiS AG at the 23rd Euro Finance Week in Frankfurt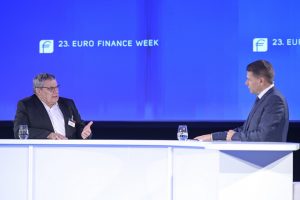 On Wednesday, 18.11.2020 took the Tech Day of the Euro Finance Week place. Through the online broadcast of the presentations, a large audience of more than 500 interested people could be reached. The CEO of EFiS AG, Mr. Armin Gerhardt had his interview at 2:30 pm. The main topics of the interview were the current experiences in the area of payment traffic, cyber crime as well as TARGET/TARGET2 consolidation, SWIFT gpi and XML conversions of the past years.
In the interview conversation, the basic deceleration of payment traffic was discussed, but also development potentials in the area of digitalization during the Corona crisis. Reasons for the deceleration are for example delayed releases or the scheduled short-time work that has been introduced at many medium-sized companies. On the subject of cyber crime, it was emphasized that phishing, for example, is more likely to occur in the private sector than in the business sector. Therefore, Mr. Gerhardt appealed to the audience to have more trust in banks, with regard to their handling of personal and account-related data. Since banks are obligated to handle data in a trustworthy manner, this interface should not be seen as a security risk, but rather as a point where further development can lead to increased efficiency.
At the end, of the discussion the changeover to standardization and the associated problems in recent years were discussed. The problem with a standardization and conversion of the payment traffic is that the payment traffic represents the foundation in the economy and additionally has a high degree of complexity. In this context, it is correspondingly time-consuming to meet the national and international requirements for standardization. EFiS AG has been dedicated to this task for several decades and acts innovatively together with its customers to meet the requirements of national and international payment traffic.