Join the team – dual study programme at EFiS AG!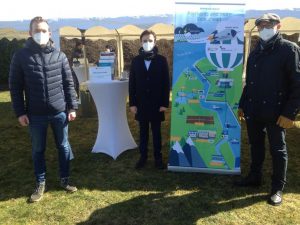 On March 21, 2021, EFiS AG participated in an open-air event organized by Rhein-Main University of Cooperative Education. Almost 200 prospective students accepted the invitation to get to know the university and, among others, us as a partner company. In beautiful sunshine and fresh air, the applicants were able to apply to us personally and ask questions about their studies.
As a continuously growing and future-oriented company, we strive to develop well-trained and qualified employees and thus to secure the existence of good personnel. For this reason, we are looking for young, motivated candidates to strengthen our team. In cooperation with Rhein-Main University of Cooperative Education, we offer the opportunity to complete a practical degree course in the following degree programs:
Business Administration and International Management (Bachelor of Arts)
Applied Computer Science (Bachelor of Science)
Business Information Systems (Bachelor of Science)
Theory at the university alternates with practical months in the company, where the students are employed in the departments of EFiS AG and work on interesting projects. We look forward to your application and are happy to answer any questions you may have at any time.
EFiS AG – Am Weiher 1-3 – 63303 Dreieich – Tel. +49 (0) 6103-9872-0 – info@efis.de – www.efis.de