6th FPN Zahlungsverkehrs-Symposium in Frankfurt – "Zahlungsverkehr – Quo Vadis?"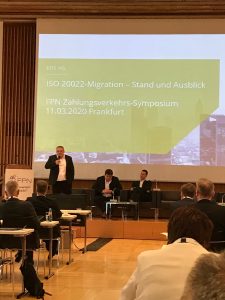 On 11th and 12th of March 2020 the 6th FPN Zahlungsverkehrs-Symposium took place at the former Dominican Monastery in Frankfurt. Overall topic of the event was "Payment Logistics – Quo Vadis?". As the Frankfurt Payments Network e.V. (FPN) celebrated its 10th anniversary, the event lasted 2 days and featured a get-together at a nearby restaurant in the evening of the first day.
Approximately 90 participants paid particular attention to current topics in the world of Payment Logistics. The main topics were the upcoming ISO 20022-Migration, Payments in Cyber Space, Open Banking and PSD2.
EFiS AG was one of the event's platinum sponsors. Armin Gerhardt, CEO of EFiS AG, held a presentation about the current state of the ISO20022-Migration and continued with a look ahead by talking about upcoming project milestones. Afterwards, a panel discussion, moderated by Mr. Gerhardt, took place. The participants were Mr. Olaf Bartel, Head of Practice of the Expleo Group, and Mr. Hubertus Krähe from SWIFT Germany. Together they raised the awareness for the upcoming ISO-20022 migration.
The dinner event gave lots of opportunities to network and to have exciting discussions.