Pandemic Management:  Covid-19 rapid tests at EFiS AG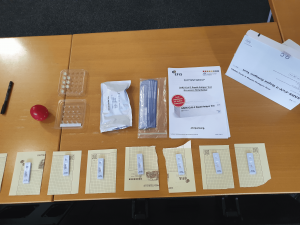 Since Tuesday, March 16, 2021, EFiS AG has been offering every employee a weekly Covid-19 rapid test. This happens on the basis of the adopted regulations on the occupational health and safety ordinance decided by the heads of government of the federal and state governments.
Every employee can easily carry out the self-test after a short training session. If the result is positive, the person concerned reports, goes into quarantine and has a PCR test carried out at the Asklepius Clinics in Langen the next day at the latest.
For EFiS AG as a system-relevant company that only has a limited opportunity to relocate activities and employees to the home office, this is a further step towards active pandemic management. In addition to the rapid tests, EFiS pays attention to the DHM rules, offers free protective masks and has equipped rooms with CO2 sensors and air purification devices. Particular attention is paid to the CO2 sensors, which were developed by our employee Alexander Ochs on the basis of his bachelor thesis and that are now used throughout the house.