The 98th Usermeeting – outlook for an eventful year 2020 with EFiS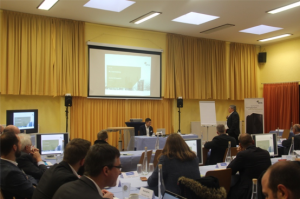 For the last time this year, customers and other payment transaction experts met again in Dreieich for an exciting 98th Usermeeting of EFiS AG.
Before Mr. Gerhardt, CEO of EFiS AG, gave an introduction to the upcoming topics, he started with an excursus on the IBM study, which describes that employees with a Mac computer are more productive than employees with other operating systems.
He then presented the past and planned audits at EFiS AG and which certifications EFiS AG has been able to win and continues to strive for. He concluded his presentation with an example from Bitcoin, whose data centers are operated only with "green electricity" in Paraguay.
Next on the agenda was a presentation by the first external speaker on that day. Miriam Hay from SWIFT Germany presented the topic gpi with its associated components "gpi Tracker", "gpi Observer" and "gpi Directory" as well as their functions and advantages.
After this lecture, the directors and students of the Janusz-Korczak-Schule, a school for spiritual development, visited the Usermeeting and were pleased about a cash cheque to support their tasks, which Mr. Armin Gerhardt handed over to them.
Florian Schwanzara from IBM Germany then presented the powerful IBM Z-Series, which securely processes EFiS's sensitive customer data. IBM focuses its products entirely on the areas of "Service Level Excellence", "Data Protection & Privacy" and "Mission Critical Cloud".
After lunch, Stefanie Stadtmüller from the Deutsche Bundesbank gave an update on the TARGET2/T2S consolidation. According to the latest regulations, all companies and banks affected by the consolidation must maintain a central cash account (MCA).
In the following lecture Dieter Becker drew the bow to TARGET2 Transformation, which aims at the connection and use of the new TARGET platform. EFiS AG will support its customers with its competence and its partners.
The current consolidation of the ECB is not the first major change in European payment transactions. Mr. Christian Schwinghammer of EFiS Swiss AG reported on the introduction of SIC from 2015 to 2019 and which challenges were mastered.
At the end of the informative event, Mr. Armin Gerhardt concluded with a review of the last November release 2019 and the lessons learned for the future.
We would like to thank all the speakers and participants who contributed to the success of the day with their contributions and networking and look forward to continuing the Usermeetings together in 2020.